Specialty Drinks, a.k.a. "The Good Stuff"
Mermaid H20 A summertime favorite made with Captain Morgan, Coconut Rum, Blue Curacao, fresh squeezed lime juice, and topped off with pineapple juice! 8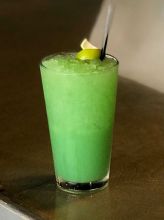 Rip Tide Don't go swimming after this tasty beverage! Vodka, Rum, Gin, Triple Sec, Blue Curacao with a splash of pineapple juice and sour mix. 10
Orange Mule Our refreshing version of a Mule with Smirnoff Orange Vodka, Islander Ginger Beer, Lime Juice, and Ginger Ale. Perfect after a long day on the beach! 8
Pineapple Jalapeno Margarita A staff favorite, this sweet and spicy margarita is everything you've been wanting and more! Fresh Jalapenos marinated in Sandbars' homemade Pineapple Margarita mix with Sauza Silver Tequila. 9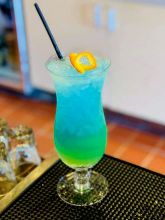 Mojito of the Day Fresh Mint Leaves muddled together with Lime, Simple Syrup, and whatever fresh fruit our bartenders choose! Mixed with rum and soda water. 8
The West Third Inspired by our favorite local coffee shop, this frozen drink will cool you right off using Patron XO Café with flavors of hazelnut, caramel, chocolate, and topped with whipped cream! 9
Bushwhacker Get whacked! Vodka, Rum, Amaretto, Kahlua, Hazelnut liquor, Bailey's and Cream of Coconut, all blended together and topped with nutmeg. 8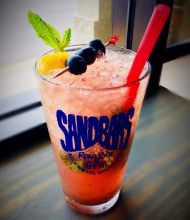 The Banana Hammock House Rum, Creme de Cacao, Creme de Banana, blended up with our Ice Cream Island Oasis and Banana Mix topped with whipped cream and a chocolate drizzle. 8
Oyster Shooter Made with a James River Oyster, a chilled shot of Smirnoff Citrus Vodka, shaken with Zing Zang mix, Texas Pete, and Horseradish! 7
---
Beer & Wine
Our house brand of wine is Gnarly Head. Three reds, three whites.
We also offer a wide selection of import, domestic and craft beers in cans, bottles and on tap.