Specialty Drinks, a.k.a. "The Good Stuff"
Mermaid H20 A summertime favorite made with Captain Morgan, Coconut Rum, Blue Curacao, fresh squeezed lime juice, and topped off with pineapple juice! 8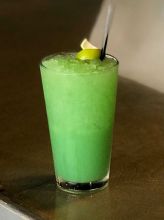 Rip Tide Don't go swimming after this tasty beverage! Vodka, Rum, Gin, Triple Sec, Blue Curacao with a splash of pineapple juice and sour mix. 10
Apple Cider Mule Apple vodka and ginger beer topped with cider and fresh squeezed lime juice. 7
The Russian Cha-Cha This smooth drink will have you moving! We mixed up Vanilla Vodka, Kahlua, Amaretto, Rumchata and cream and topped it with nutmeg to make you shimmy right out of your chair! 7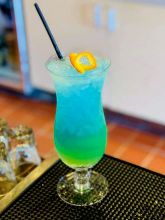 Apple Pie on the Rocks Everyone's favorite cinnamon whiskey, Fireball, pairs up with Vanilla Vodka and apple juice to bring you this tasty treat. 7 
Nutwhacker Take all of those delicious ingredients in the Bushwhacker and add creamy peanut butter. 8
Bushwhacker Get whacked! Vodka, Rum, Amaretto, Kahlua, Hazelnut liquor, Bailey's and Cream of Coconut, all blended together and topped with nutmeg. 8
Raspberry Margarita This Silver Margarita mixes together with Chambord for that classic refreshing taste with subtle hints of raspberries and cranberries. 8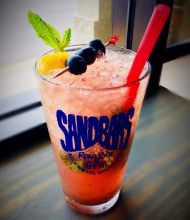 The Banana Hammock House Rum, Creme de Cacao, Creme de Banana, blended up with our Ice Cream Island Oasis and Banana Mix topped with whipped cream and a chocolate drizzle. 8
Oyster Shooter Made with a James River Oyster, a chilled shot of Smirnoff Citrus Vodka, shaken with Zing Zang mix, Texas Pete, and Horseradish! 7
Click here to see our full list of signature cocktails
---
Beer & Wine
Our house brand of wine is Gnarly Head. Three reds, three whites.
We also offer a wide selection of import, domestic and craft beers in cans, bottles and on tap.